Company Profile
Brightlabs Incorporated manufactures and markets cleaning and maintenance solutions for the industrial, institutional and commercial market. These are top quality, innovative products that meet or exceed our customer's expectations at very competitive prices. We are able to do this by importing high quality American concentrates and blending them locally. We have a combined inventory of more than 30,000 gallons of various chemicals in our plant.
Our objective is to develop mutually profitable customer partnerships by focusing on prompt and reliable customer service, free training for customers and excellent products that simply work and give definite value for money thus increasing customer's overall efficiency. Honesty and integrity has been and will continue to be the basis of our relationship with our suppliers and customers. These satisfied customers are our greatest asset, our best salesmen and the foundation on which we must build our future.
Brightlabs has been a leader in producing innovative chemical formulas that truly save labor and money. We have a proud past in pioneering significant new products and are poised for dramatic growth in the years ahead. We sell our products directly to end users and through a network of dedicated janitorial supply distributors.  
Currently, we have a full line of basic cleaning chemicals namely finishes, strippers, floor cleaners, spray buff maintainers, various cleaners and marble crystallizers. We import cleaning equipment from Powr-Flite USA which includes floor polishers, burnishers, wet and dry vacuum cleaners, extractors, dryers and auto scrubbers.
We have products for floor care, carpet care, food service and restroom products.
We are the first company in the Philippines to have U.S. Environmental Protection Agency (EPA) Design for Environment (DFE) certified products. We have a US EPA DFE certified floor finish, wax stripper and floor cleaner. These products may be seen on their website at http:///www.epa.gov/dfe/pubs/projects/formula/formpart.htm#96
We are the official distributor of Powr-Flite USA for their floor polishers, burnishers, wet and dry vacuum cleaners, carpet extractors, dryers and auto scrubbers.
We represent Brulin USA for Aviation and Aerospace chemicals. We also carry their hospital grade disinfectant MAXIMA 256 and food grade sanitizer QUAT CLEAN IV which we sell to the local market. 
                                             FEATURES AND BENEFITS OF OUR PRODUCTS
• Imported US Concentrates – this means that the products have very high quality comparable to that of its multinational competitors.    
• Reasonably Priced – although the main ingredients are directly imported from the US, our prices are 16 to 56% lower compared to its multinational counterparts.
• Bar Coded Labels – For companies that utilize bar coding, this facilitates better inventory control, efficient warehousing management, easier ordering and immediate retrieval of information.
• Complete MSDS  – this makes working with the products safer and provides better overall knowledge of each brand.
• Free Demonstrations and Samples – testing a product has never been easier as we provide free samples and even go to the extent of providing free supervision for the application of our products during the initial period of testing.
• Tamper Proof Seal – all our gallons are induction sealed with aluminum foil so you can be assured of quality.
• User Friendly Packaging – our products are packaged in 1 gal x 2 per case. This makes it easier to carry and makes ordering in smaller quantities acceptable.
• Color Coded Products (some) – our translucent packaging and colored chemicals (some products) makes it easier to identify the product in one glance which translates to less error on product usage as well as a more efficient workforce.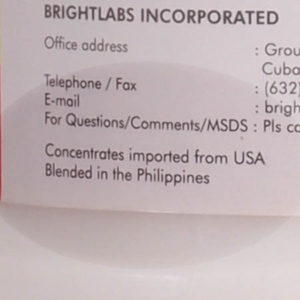 Imported US concentrates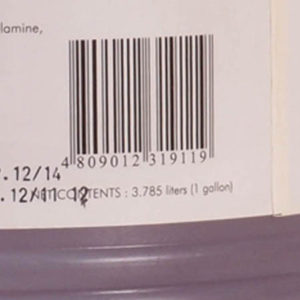 Bar Coded Labels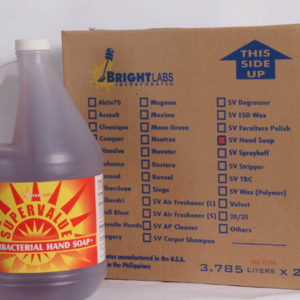 User Friendly Packaging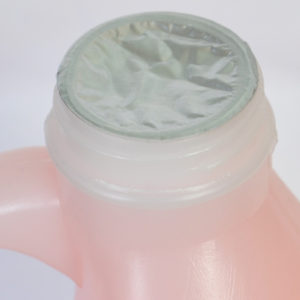 Tamper Proof Cap                                               
BRIGHTLABS INCORPORATED, Quality need not be expensive